Supporting People with Disability to Achieve Their Goals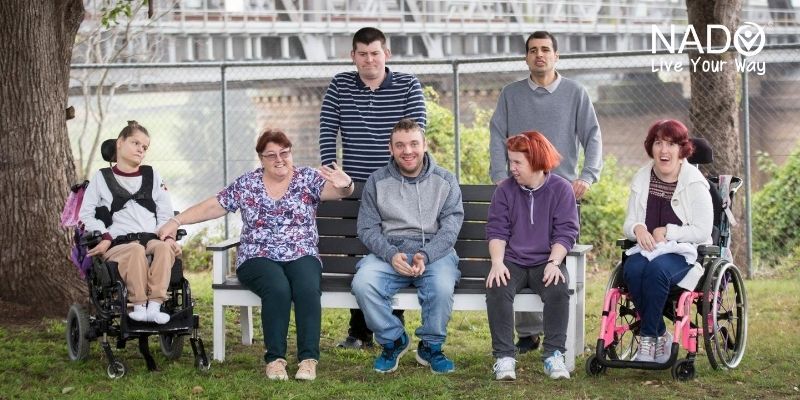 Did you know that as of December 2019 there were more then 4 million Australians that have a disability? Which equates to around 1 in 5 people or 18% of the entire population.
Nepean Area Disabilities Organisation (NADO) was founded in 1980 and has helped to provide support to people with disability, both intellectual and physical for over 40 years.
The mission of NADO is to provide quality services and supports that respond to the needs and personal goals of people with disability, their families and carers within the context of their home, work and community life.
When you connect with NADO new doors will open to friendships, employment, leisure, sport, independence and social opportunities.
Located in the Nepean region of Sydneys Western Suburbs, the registered NDIS Provider offers services to people across the Hawkesbury, Penrith, Blue Mountains and surrounding areas.
These services include Accommodation, Allied Health, Day Programs, Social Clubs, Plan Management, Short Courses, Support Coordination and KidsZone – which is a weekend and school holiday program for children aged 5 to 17 years.
The main role at NADO is to support and help implement NDIS plans and to bring a person's individual goals to reality. The NDIS (National Disability Insurance Scheme) provides a whole life approach to support eligible people with disability. Examples of support can include:
-        Helping to co-ordinate different services
-        Aiding people to live as independently as possible
-        Providing social engagement programs
-        Assistance in the development of life skills
With a collective staff of over 200 people, their passionate team is the heart of the organisation that supports people to develop their skills and achieve their goals. Staff are provided with on-going career training and education to ensure they provide a safe and quality service. All of the workforce at NADO have the appropriate checks to ensure participant safety.
Getting started at NADO is simple, just call one of their friendly team members on 1300 738 229 or visit their contact page.
Share this page




Comment
Leave a Reply